Originally posted on Latinxs in Kid Lit on April 16, 2020
Reviewed by Emily R. Aguiló-Pérez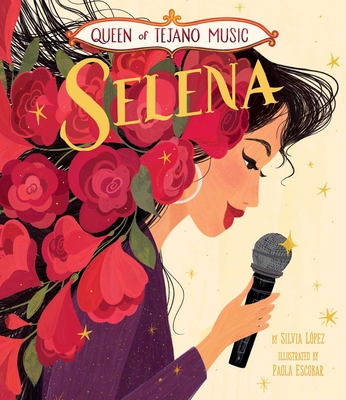 DESCRIPTION OF THE BOOK: Selena Quintanilla's music career began at the age of nine when she started singing in her family's band. She went from using a hairbrush as a microphone to traveling from town to town to play gigs. But Selena faced a challenge: People said that she would never make it in Tejano music, which was dominated by male performers. Selena was determined to prove them wrong.
Born and raised in Texas, Selena didn't know how to speak Spanish, but with the help of her dad, she learned to sing it. With songs written and composed by her older brother and the fun dance steps Selena created, her band, Selena Y Los Dinos, rose to stardom! A true trailblazer, her success in Tejano music and her crossover into mainstream American music opened the door for other Latinx entertainers, and she became an inspiration for Latina girls everywhere.
MY TWO CENTS: As a middle-grader, Selena was my idol! I wish I had found her music earlier, but it was perhaps a year or so before her death. When the news broke, I was devastated and found solace in listening to her music and learning about her as much as possible. To this day, her music is a big part of my life. I had her CDs and her doll, I learned her songs and movements, and sometimes I even made up my own choreography. I approached this book, then, not only as a reviewer of children's books but also as a lifelong fan of Selena.
How does one introduce to children the life of such an important icon of Latinx music whose life ended so tragically and so soon? Queen of Tejano Music: Selena tells the story of Selena Quintanilla, from her childhood in Lake Jackson, Texas to her successful career as a trailblazing singer and fashion designer. Presented in twenty short vignettes, López perfectly presents enough details on each page without overwhelming the reader with too much text.
Selena Quintanilla was born on an Easter Sunday, on April 16, 1971 to Marcella and Abraham Quintanilla, who, as a young man, had dreams of a music career. Selena "had been singing almost since she could talk" and soon after her parents realized she had perfect pitch. With her brother A.B. on guitars and her sister Suzette on the drums, music became a family affair. Through the years, the family band performed anywhere they could, and after a few years, Selena y Los Dinos was born. Through this history of Selena's life and music career, López reminds readers of the challenges she faced: overcoming the language barrier, stepping into a male-dominated music landscape, and her father's initial opposition to Selena's romantic relationship with Chris Pérez.
This biographical account of Selena's life and work is inspirational. Along with some of the obstacles that Selena encountered, the author highlights so many of the singer's achievements that paved the way for women in music. At age fifteen, Selena won a Tejano Music Award for Female Vocalist of the Year, an accolade she continued receiving for years, along with other ones. She later received a Grammy Award for Best Mexican American Album. Yet, her success was not only measured in awards. López writes about Selena as a philanthropist, fashion designer, entrepreneur, and caring human who loved her family.
The narrative part of the book does not explicitly mention Selena's death. Rather, this information is offered on the back pages of the book. I debated whether this part of Selena's story should have been included in the main narrative or not. Yet, I thought it was handled gracefully. By writing the main text in past tense, López alludes to her passing and then offers more information about it after the last vignette. At this point, readers are presented with a timeline that begins with Selena's birth in 1971 and ends in 1997, when the movie Selena starring Jennifer Lopez opened in theaters. Following the timeline, the book presents "A Little More About…," a section with short pieces of information about Tex-Mex Music, Quinceañeras, and Corpus Christi, among others, as well as more details about Selena, including her tragic death. One observation to make here is the section titled "Hispanics or Latinos" seems to present the terms as synonyms: "Tejanos are part of a larger group of Americans, called Hispanics or Latinos, who have Spanish-speaking ancestors." While many Latinxs are also Hispanic, there are some differences that could have been easily explained there. Nevertheless, the information is accessible, clear, and easy to understand.
The colorful illustrations are as vibrant as Selena's smile and capture the singer's bubbly personality. Paola Escobar creates a medley of double-page spreads and illustrated vignettes that depict in more detail specific moments in Selena's life and specific aspects of her culture. One page depicts five moments as if they were Polaroid pictures, inviting the reader perhaps to think of her song "Fotos y Recuerdos" (pictures and memories). I noticed that on almost every page or spread, a flower is illustrated, whether it is a print fabric, picture, real flower, or even a pin. Details such as this one are just an example of how Escobar's illustrations enhance and complement López's writing to create an engaging work of art.
There have been several books and media about Selena's life, in addition to musical tributes, fan-made merchandise, anniversary albums, and makeup lines, to name a few. In October 17, 2017, Google honored her with a doodle, as part of the launch of a virtual exhibit on Google Arts & Culture. Joining these tributes, Queen of Tejano Music: Selena is a celebration of the singer's life—her music, her fashion, her memory, and her legacy, still alive and strong 25 years after her passing. A perfect addition to any picture book collection!
---